Dr. Falgun Chokshi, a radiologist with diverse professional experience and interests, is the newest addition to the Bracken team of consultants. We talked with Falgun recently about his career to date and future plans.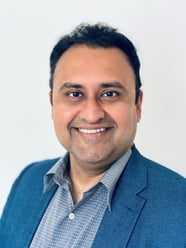 Q: You've done a lot of work that is unusual for a radiologist. Why is that?
A: I like getting involved in projects that are at the intersection of different disciplines. So even though I'm a physician by training, a lot of the roles that I have taken on had something to do with medicine and some other vertical—business development or marketing, for example. In one of my previous roles I was site director for a neuroradiology practice in Atlanta. It was very interesting because the task was to turn a traditional radiology practice into a state-of-the-art, tertiary care, sort of machine. That was very challenging, because when you're being trained as a physician, no one teaches you those sorts of skills.
Q: What's another example of an unusual project you've worked on?
A: One involved using machine learning and artificial intelligence to find information from radiology reports that could be used for quality metrics.
Q: What makes a project like that interesting to you?
A: The types of projects I enjoy a lot bring together people from different backgrounds—people from healthcare, people in machine learning. We had economists on our team. Usually these people don't even talk to each other on a routine basis. I like projects that bring things to an intersection, a place where different disciplines can play together. That's where innovation happens.
Q: What kind of clients do you look forward to consulting with?
A: Usually I gravitate to earlier stage, early revenue companies, because, frankly, they're hungrier, they need to constantly keep their eye on the prize. And they tend to be fun to work with.
Q: Why have you chosen to join Bracken?
A: I liked that it is not a pretentious group of people. I like working with people who want to have fun doing the work they do. Even though ours is serious work, we don't have to take ourselves too seriously. And, as Colin said to me, "We're a group of professionals who have multiple interests, but come together under this banner." That seemed very straightforward. It felt right.
Q: What else should we know about you?
A: I live in the Philadelphia area. My wife and I have two children. We like to travel a lot. We especially like to take the kids to national parks.
Q: You've mentioned that you are working on some interesting passion projects. Can you tell us a little about any of them?
A: One area I'm working in is space commercialization and habitation. I'm starting to work on projects related to how can we make it safer for humans to consistently go to space. And how can we use the same technologies to help us on Earth? What are the biggest problems that we need to solve? I'm starting to make inroads into a few ideas related to radiation shielding and human habitation, which can work in space and on Earth as well.

Another area of interest for me is grand scale behavioral change for people. Medication adherence is a challenge in healthcare, because only 50% of people globally take their medicines as they should. It ends up that this is a behavioral issue. How could we use technology to change this behavior?

These sorts of pursuits take a lot of time and effort, but I love complex problems. They're very fulfilling to work on, and even more fulfilling to solve.
For more about Falgun, see his curriculum vitae here.