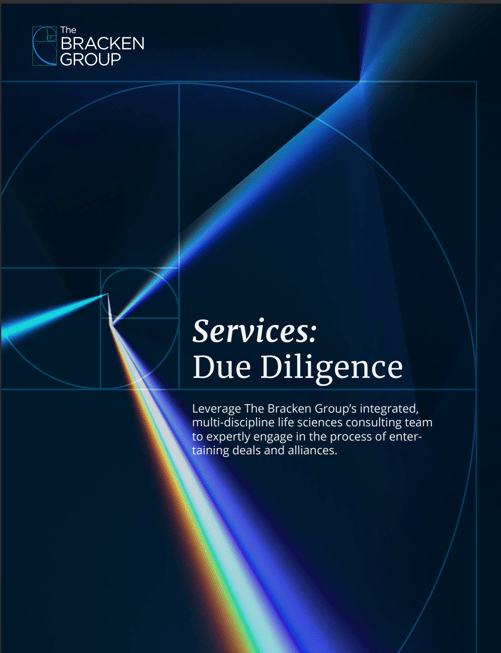 Leverage The Bracken Group's integrated, multi-discipline life sciences consulting team to expertly engage in the process of entertaining deals and alliances.
Success as a life sciences company demands specific and wide-ranging expertise. Appreciating the complexity, those contemplating business deals in the space perform rigorous due diligence prior to making any financial commitment. Whether yours is the company being evaluated or the company executing the acquisition, you can count on Bracken to provide the subject matter expertise required to adequately analyze and defend your position.
Due diligence requires a comprehensive and integrated approach to evaluating assets and/or companies. Considerations including:
Gap analysis

Political, economic, social, and technological impact analysis

Market fit

Commercial viability

SWOT analysis of products or technologies

Competitive landscape analysis

Pre-clinical planning

Review of data and rationale

Regulatory strategy

Clinical strategy

Intellectual property strategy

Critical evaluation of the scientific and clinical data to ensure the level of confidence can support the claims
When contemplating an investment, trust Bracken to assess not only the technological and regulatory components, but also the assets' ability to compete in the market.
Regulatory GAP analysis to confirm no "skeletons" in the closet or missing critical documents

GAP analysis to make certain all requisite documentation and data are available to support the product/company claims

Proof that the Target Product Profile is supported by relevant data (clinical, pre-clinical, CMC)

Confirmation that the perceived attributes of the product, company or technology provide a competitive advantage over existing products or technology

Review of IP strategy from a non-legal perspective to evaluate the scientific merit of pending patents
For companies seeking investment or licensing opportunities, Bracken can prepare you to withstand due diligence scrutiny from VCs, PE, or corporations, and preserve your valuation.
Review the product/technology data to develop strategy to support its value

Identify potential weak points that may be raised by investors/licensers and assist in crafting solutions

Review regulatory documentation and communication with competent authorities to identify any possible issues and provide guidance

Perform "mock" due diligence to prepare the company for success
Protect and defend your position. Leverage the knowledge and experience of The Bracken Group
Bracken experts in due diligence
Andrew L. Salzman, MD
Andy is a physician, scientist, entrepreneur, executive, and pharmaceutical development specialist who has founded and led multiple biotechnology companies, several of which have been subjected to, and survived, due diligence inquiries. Additionally, in the course of his career he has vetted approximately 300 companies and their products and assets.
Victor Miranda, MD, MBA
A physician and leader in the field of medical device development, Victor most recently served as Chief Medical Officer for 3M, a position that he originated. He has had extensive experience at the executive level in both domestic and international business with companies that include GE Healthcare and Johnson & Johnson.
Colin G. Miller, PhD, FIPEM, CSci
Co-founder and managing partner of Bracken, Colin served as Senior Vice President of Medical Affairs at BioClinica where he was instrumental in formulating company strategy and evaluating potential targets for acquisition. His due diligence experience also includes in-depth review of company assets and analysis of companies in the pharmaceutical services sector.
Jim Gilligan, PhD, MSIB
Jim is a scientist, entrepreneur, and executive who has co-founded and helped to lead multiple biopharma and biotech companies, including Tarsa Therapeutics, Herborium Inc., and Unigene Labs. His extensive background in drug development provides a sound foundation for savvy assessment of the scientific and clinical rationale and viability for products/technologies under development. His international business experience informs his ability to analyze competitive landscapes and defend corporate/product valuations.
Brad Wyman, PhD
Brad has more than 20 years of experience working with startups and small companies. His career includes serving as vice president of Imaging and Clinical Development at ImaginAB, and, for ten years, serving as head of Functional and Structural Neuroimaging at Pfizer, where he worked with vendors to ensure they had the operational and financial stability to deliver. He has conducted multiple due diligence exercises and in one case, his analysis led to spinning out technology from a university to a new company.
Nick Spring, DipM, BSc (Hons)
Nick is a highly experienced executive with a track record of team building, strategic planning, and tactical execution in medical devices, pharma, and biotech. He has held leadership positions with Smith & Nephew, Merck, and Merial, among others. In 2020, Nick served as founding CEO of ViralClear Pharmaceuticals, a company working on a treatment for COVID-19. Nick's extensive work in due diligence includes large and small pharma, biotech, and med device companies in the US and globally.
Lieselotte Bloss, DV
A co-founder of Bracken, Liz has held positions at Sanofi, Novo Nordisk, Bracco, Kyowa Hakko Kirin, and Taiho Oncology. She is an accomplished drug development strategist and a seasoned regulatory leader with a strong track record of delivering IND, NDA, and MAA submissions in multiple therapeutic areas. Her work in due diligence has focused on regulatory gap analyses—assessing the potential for client assets to pass the key regulatory hurdles required to get to market.