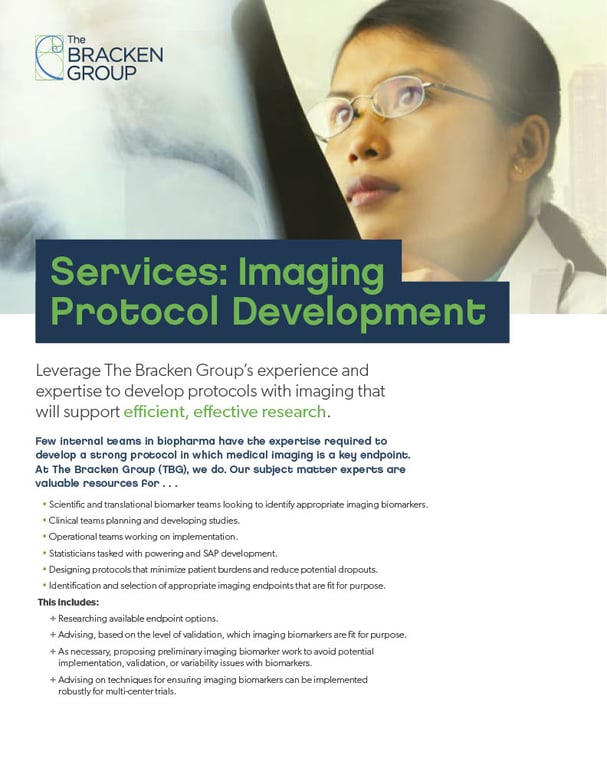 Leverage The Bracken Group's experience and expertise to develop protocols with imaging that
will support efficient, effective research.
Few internal teams in biopharma have the expertise required to develop a strong protocol in which medical imaging is a key endpoint. At The Bracken Group (TBG), we do. Our subject matter experts are valuable resources for . . .
• Scientific and translational biomarker teams looking to identify appropriate imaging biomarkers.
• Clinical teams planning and developing studies.
• Operational teams working on implementation.
• Statisticians tasked with powering and SAP development.
• Designing protocols that minimize patient burdens and reduce potential dropouts.
• Identification and selection of appropriate imaging endpoints that are fit for purpose.
This includes:
Researching available endpoint options.
Advising, based on the level of validation, which imaging biomarkers are fit for purpose.
As necessary, proposing preliminary imaging biomarker work to avoid potential implementation, validation, or variability issues with biomarkers.
Advising on techniques for ensuring imaging biomarkers can be implemented
robustly for multi-center trials.
Work with TBG to ensure...
Appropriate endpoints are selected.
Endpoints are crisply defined to precisely inform the development of powering calculations, statistical analysis plans, site surveys, and imaging review charters.
Optimal imaging modalities are selected.
Potential protocol amendments are minimized by . . .

Stating basic imaging equipment and facility requirements so that PIs can assess their sites' appropriateness for study participation based on the protocol.
Ensuring any potential safety issues related to imaging are addressed for IRB review.
Including language for the IRB to assess that the imaging will be done with appropriate quality (such as central review).
Leaving the imaging details out but referencing that they will be made available in study specific documentation.
Ensuring in advance that the endpoints are appropriate and analyzable.
Ensuring that the protocol identifies the potential for the data to be used in other ways after appropriate de-identification.