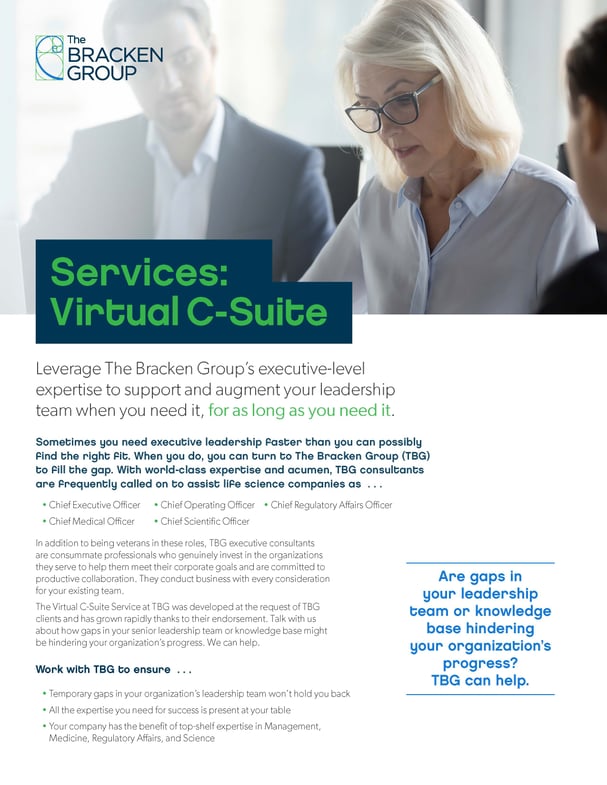 Leverage The Bracken Group's executive-level expertise to support and augment your leadership
team when you need it, for as long as you need it.
Sometimes you need executive leadership faster than you can possibly find the right fit. When you do, you can turn to The Bracken Group (TBG) to fill the gap. With world-class expertise and acumen, TBG consultants are frequently called on to assist life science companies as . . .
Chief Executive Officer
Chief Operating Officer
Chief Regulatory Affairs Officer
Chief Medical Officer
Chief Scientific Officer
In addition to being veterans in these roles, TBG executive consultants are consummate professionals who genuinely invest in the organizations they serve to help them meet their corporate goals and are committed to productive collaboration. They conduct business with every consideration for your existing team.

The Virtual C-Suite Service at TBG was developed at the request of TBG clients and has grown rapidly thanks to their endorsement. Talk with us about how gaps in your senior leadership team or knowledge base might be hindering your organization's progress. We can help.
Work with TBG to ensure. . .
Temporary gaps in your organization's leadership team won't hold you back

All the expertise you need for success is present at your table

Your company has the benefit of top-shelf expertise in Management, Medicine, Regulatory Affairs, and Science