Infographic- Ensure You're at the Top of Your Game with TBG's Help
Colin G. Miller
Conducting a clinical development program is a lot like playing golf. There is a clear objective - to reach the hole in as few strokes as possible while staying on course and avoiding costly mistakes. The terrain can be tricky, and the traps and obstacles can overwhelm even the most seasoned players.
So how do the pros ensure they are on top of their game? They prepare.
And in the game of drug development, preparation equals getting the right support, expertise and insights to get you to the finish.
Here's a look at how The Bracken Group can help you achieve your drug (and biologics) development and regulatory goals, from initial regulatory filing to health authority approval.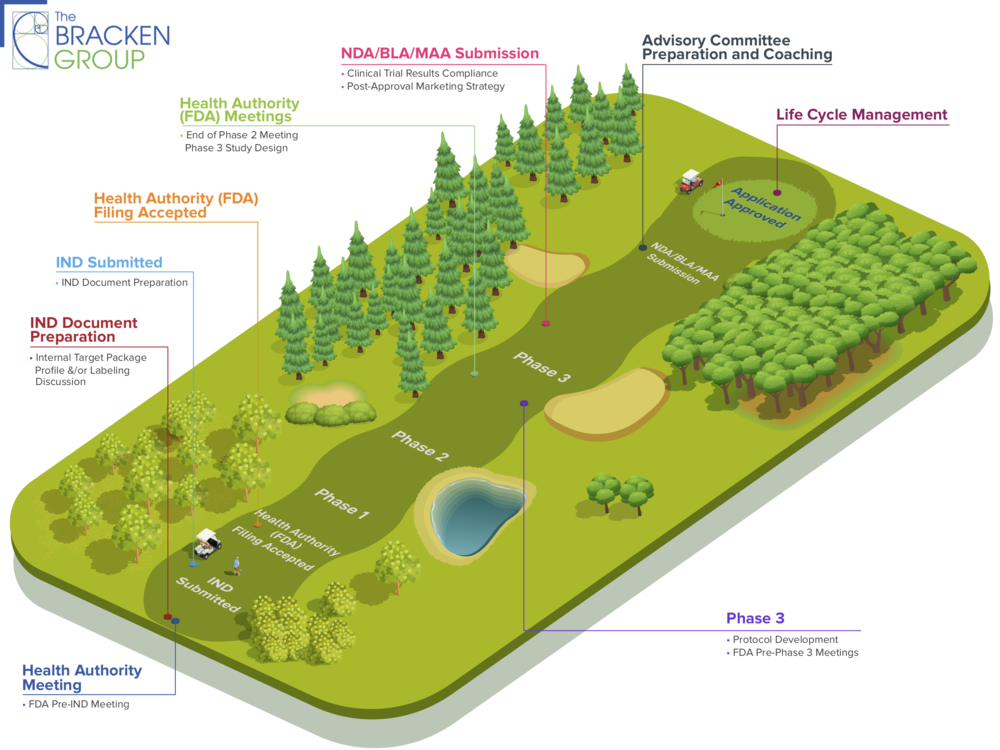 FDA Pre-IND Meeting
Ready to tee off? Well, before you begin, you'll need approval from the FDA for an Investigational New Drug (IND) application. This is the first step in clearing the path to conduct your clinical trial. An IND ensures that subjects or patients will not face "undue risk of harm" in a clinical investigation that involves the use of a drug or biologic.
The pre-IND meeting is an invaluable opportunity to plan a drug development program with input from the FDA to ensure that you are on the right track. Early interactions with FDA address questions and nuances not answered in guidance documents and can help prevent clinical hold issues from arising. A pre-IND meeting can also provide information that will assist sponsors in preparing their IND submissions.
The Bracken Group has the experience and expertise to guide you in discussing your development plans with health authorities, from pre-IND meeting strategy to document preparation.
IND Document Preparation
In order to grant an IND, the FDA requires sufficient information to assess the safety of the intended research study and quality of your investigational product. Your IND submission must be free of errors and omissions, while providing the required information for the FDA to make their assessment.
With so much at stake, this can be a daunting experience.
That's why you can turn to The Bracken Group to help you properly prepare your IND submission, including internal target package profiles and appropriate labeling.
Early Labeling Strategies
Limited regulatory guidance exists for labeling, packaging, and nomenclature of investigational drugs. This increases your risk of errors that may lead to inaccurate data on the safety and effectiveness of your drug.
Having the right strategy in place for investigational drug labeling is an important aspect of smart planning.
Phase 1 Imaging Techniques/Biomarker Evaluation
Medical imaging has become an invaluable tool in drug development as it can provide effective primary, secondary, and exploratory study endpoints that can be employed throughout the clinical trial phases.
The principal aim of Phase I trials is to study the pharmacokinetics and initial tolerability in humans. It's also an opportunity to assign the right imaging biomarkers to your trials. This requires the selection of the best imaging modalities, techniques, and endpoint criteria for your class of drug.
The Bracken Group brings decades of direct medical imaging expertise to your trial design.
Due Diligence/Phase 2 Study Design
Due diligence is an essential activity for companies and investors alike. Whether you're looking to purchase or sell an asset, or find a development partner, you'll need a clear understanding of your asset's potential market value.
You'll also need a strong Phase 2 study design that includes the right imaging biomarkers and provides proof of concept.
The Bracken Group provides a wide range of due diligence services to help you plot the right course forward.
Patient Recruitment Strategies/Protocol Development/FDA Pre-Phase 3 Meetings
Most clinical trials do not meet their enrollment requirements. Patient recruitment fails for a variety of reasons. Taking the time to understand your patient population will help you avoid these costly challenges and stay on course.
The Bracken Group can help you identify your target patient audience, the information they need, and the best way of connecting with them. We are also uniquely positioned to help you with protocol development and End of Phase 2 FDA meetings.
Clinical Trial Results Compliance/Post-approval Marketing Strategy
In September 2018, the FDA released draft guidance proposing financial penalties for non-compliance with the submission of clinical trial results in ClinicalTrials.gov.
The Bracken Group's seasoned industry professionals can ensure that your team has a thorough understanding of the proposed guidance to keep your trial results in compliance. Our depth of experience with the FDA, from IND and NDA filings to meeting preparation and attendance, will set you up for success. In addition, we can help you set the right post-approval marketing strategy in place to maximize ROI and minimize risk.
Advisory Committee Preparation and Coaching
The FDA relies on advisory committees to provide independent, expert opinions and recommendations on New Drug Applications (NDAs) to market new drugs. Getting an approved NDA is the final step in your journey to launch your new product.
An NDA must include sufficient data to support the safety and efficacy of new drugs for human use. Based on this information, advisory committees may recommend approval or disapproval of a drug's marketing application.
Because the FDA generally follows advisory committee recommendations, it's vital for sponsors to properly prepare their submissions and be thoroughly coached on how to address any questions or concerns raised by the advisory committee.
The Bracken Group's team of seasoned industry experts can help you prepare for a successful marketing application by ensuring your readiness.
Lifecycle Management
Pharmaceutical lifecycle management (LCM) is the process of managing the entire lifecycle of a product, from design and research to manufacture, marketing, and disposal. Strategic LCM is a useful tool for maximizing sales throughout your product's lifecycle.
The Bracken Group can assist you in your LCM planning to provide greater profitability and retain market share, even as you face patent expiration and growing competition.
Subscribe to receiving more content