In a first for the FDA, it has sent a notice of non-compliance with possible fines to a company for its failure to post clinical trial results on ClinicalTrials.gov.
Interestingly, the FDA informed the company, Acceleron, nine months ago it had not fulfilled ClinicalTrial.gov data bank requirements. It appears Acceleron did not act on this initial warning. Now, a letter from the FDA states Acceleron has 30 days to post all of its clinical trial results or be fined $10,000 per day of non-compliance. Furthermore, the letter states the failure to comply "could result in other regulatory action, such as injunction and/or criminal prosecution."
Anticipating an event like this, for the past five years Bracken Data, sister company to The Bracken Group, has repeatedly commented on the need for clinical trial transparency. In conjunction with Bracken Data, in the last 12 months, The Bracken Group developed an easy to use tool to check compliance with ClinicalTrials.gov
In 2016, Congress passed the 21st Century Cures Act, increasing the FDA's legal underpinning to ensure the biopharmaceutical and medical device industry's compliance with ClinicalTrials.gov information posting requirements. In 2020, the FDA released guidance for the industry related to adherence to ClinicalTrial.gov data bank requirements and monetary penalties. With this, the FDA has the ability to fine companies up to $10,000 per day for every day of non-compliance with requirements. However, until this case, the FDA has not "flexed its legal authority" to do so.
Read the recent blog from Liz Bloss, head of regulatory affairs for The Bracken Group, on the need for clinical trial compliance.
This appears to be the FDA's final warning for Acceleron. According to the FDA's letter, it will take no further action if Acceleron can correct its compliance issues within the next 30 days. However, this could be just the first case for the FDA notifying companies of non-compliance – a likely "the canary in the coal mine" warning that more will follow.
See below for a flow diagram from Chelsea Miller, Regulatory Affairs Consultant, on the approach the FDA has developed in their guidance documents: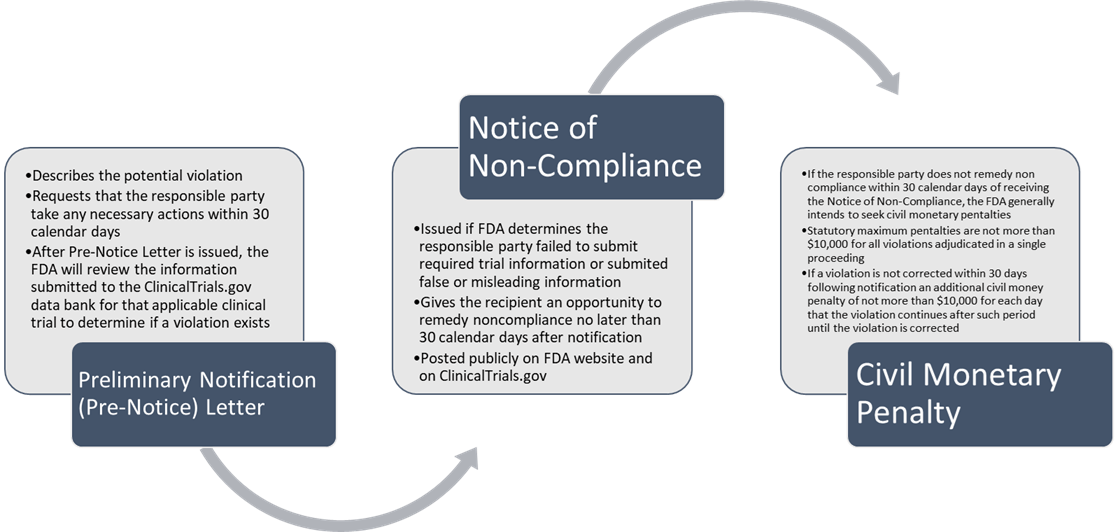 Flow Diagram summarizing the FDA approach to ClinicalTrials.gov fines and warnings.

If you are managing or running clinical trials, it is important to ensure compliance with ClinicalTrials.gov. Take a moment to review the TrialCompliance Lite developed by The Bracken Group and Bracken Data.
The Bracken Group has extensive experience with ClinicalTrials.gov and its many nuances. Contact us for more information on how we can support your management of information for ClinicalTrials.gov.