Life science sales teams know that data is essential to successful sales, but many of us could benefit from being more sophisticated in how we use data to support our sales processes. For example, clinical trial condition is just one piece of data you can leverage to strengthen your sales approach. Once you have this data, you can put it to work to problem solve for prospects, curate a personalized experience for leads, and outsell your competitors. Let's explore this dataset, and 6 ways you can use it to boost your sales strategy.
Discovering Condition and Therapeutic Area Data
In clinical trials, the condition is the disease that is being treated by the study. The therapeutic area (TA) is the category of conditions that the disease state belongs to. For example, leukemia is a condition, and oncology is a therapeutic area.
We believe in the value of tracking conditions and TAs separately, but you can use these datasets interchangeably if you choose. In our new tool, Bracken CRM, you can filter clinical trial data by condition and/or TA, providing a host of unique insights to fuel your sales process.
Continuing to use leukemia as our example, condition data can answer key questions such as:
Is a particular company involved with leukemia research?

Which companies sponsor the most leukemia research?

Which companies have sponsored phase 2 leukemia studies?

Which companies have we already done business with that conduct leukemia research?
With condition data in hand, you can apply your findings to strategic sales actions.
6 Ways to Use Clinical Trial Condition Data for Sales
List building and target account development
Condition data helps you understand which companies have sponsored trials related to a particular condition and see which companies are the most active in a TA, so you can pinpoint what prospects are higher priorities than others. Not only will this help you find new leads, it can also be applied to existing contacts in your CRM to clarify new opportunities. You can empower your sales team to contact these companies with TA-specific content, resources, or services, which will build trust and strengthen future sales opportunities.
Lead scoring
Just as you can leverage your data for list building, you can have your sales management systems automatically tell you which leads are interesting based on their clinical trial activity data. This can incorporate clinical trial criteria into other business criteria that's important, like location, company size, previous engagement, etc., to provide a holistic sense of who your most important leads and accounts are.
Alerts
After you've gathered more information about conditions and TA activity relevant to your sales goals, you can set up alerts to notify you when applicable client or industry activity happens. For example, in Bracken CRM, you can set up new a "new lead alert" to let you know when a new company joins an existing list in your CRM. You can set up a "new trial alert" to notify account managers when an existing client starts a new trial. And you can better leverage Google Alerts to notify you about activity in your targeted areas and potentially identify new leads in those fields.
Competitive lead intel
Help your prospects understand their environment, and let them know that you understand it, too. With targeted data, you'll know which firms are conducting similar research and which sites are active in a prospect's therapeutic area. You can even determine if their competitors have worked with these sites. Use these site connections as a lead-in to discussions with other prospects and sponsors.
Market intel
Understanding market activity by condition and therapeutic area is essential to strategic sales. How many trials are in the TA? Is the rate of new trials changing? How many sites have been active in the TA? How many patients have been enrolled in the TA? Is the trend going up or down? Condition and TA datasets provide invaluable intelligence into the market at large. This intel is key to understanding how your business compares to the market trends, which will inform your go-to-market strategy.
Sales management
Manage your sales by monitoring key pipeline data. What does your sales pipeline look like by condition? Are there TAs that need more sales pipeline than others? Can you help your executive team make hiring decisions based on sales pipeline broken down by TA? How does each sales rep sell, based on condition? Can you optimize your win rate by assigning leads to reps, based on their strongest TAs? Connect all of these data pieces together for more strategic, effective processes.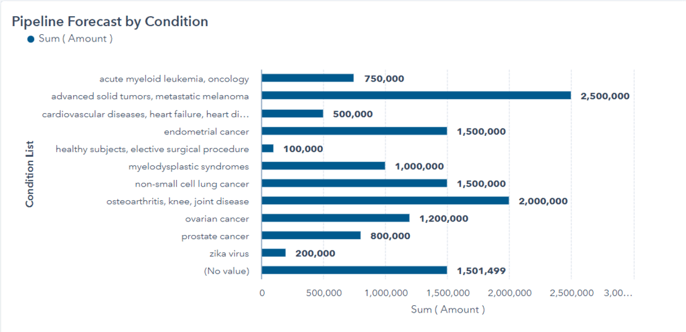 How to Access Condition Data
There's a lot of power for sales teams in condition and TA data. You can source condition and TA data on ClinicalTrials.gov. However, you'll need to manually clean the dataset to gain actionable insights. To save time, consider Bracken CRM. We have 20,000 lines of script cleaning the data and re-categorizing conditions into TA categories for business purposes, so you get clean data in minutes. It all works right within your current CRM, connected to your existing deals and contacts in one convenient place. Contact us to schedule a free demo and learn how Bracken CRM can support your sales goals.