Why Have a Meeting?
As medicines have become increasingly unique and complex, a more collaborative approach to interacting with the FDA has been undertaken by industry sponsors in recent years, displacing the dated "make them ask" approach. Trying to force the quality, pre-clinical or clinical square peg into the round hole can have devastating consequences on timing, cost, and outcome of development programs. Meetings with FDA are designed to discuss development programs during critical points in the regulatory process, helping to ensure the peg is being placed where it needs to be. In 2017, the FDA released their revised Guidance for Industry on formal meetings outlining the procedures for requesting, preparing, scheduling, conducting and documenting formal meetings.
Start Using TrialTrends: A Free Tool That Visualizes Clinical Trial Registration Rates
What Type of Meeting to Request?
The timing and the type of meeting to request is dependent on the stage of development your program is at, as well as the questions you want to address. Do your questions need an interactive discussion (face-to-face or teleconference), or will a written response be sufficient? Table 1 outlines the types of meetings offered, along with where in the development program timeline they are most appropriate. (Please click on Table 1 for more details.)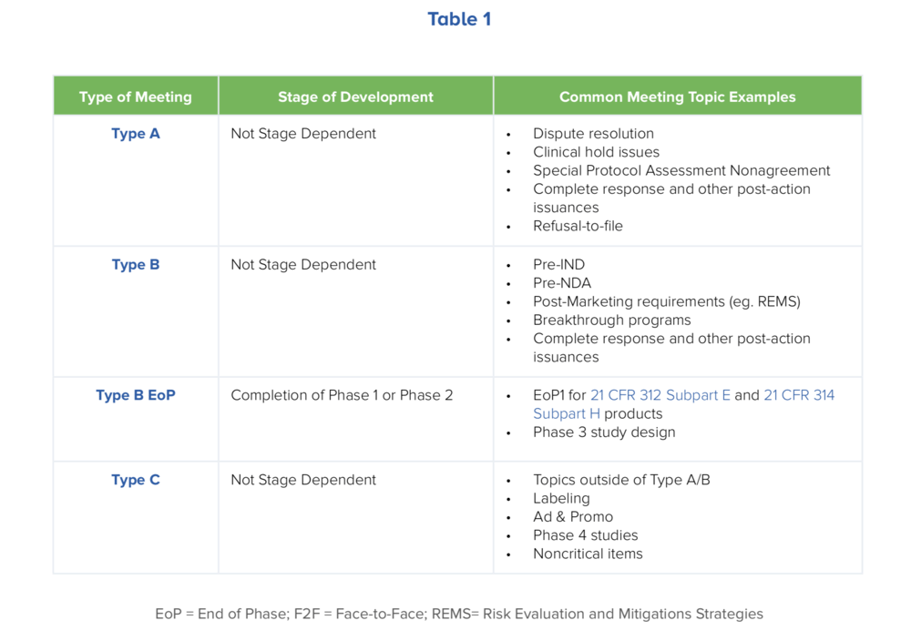 Meeting Requests and Background Documents
The timing of a meeting request should be considered and incorporated into the program's timelines as early as possible. For example, a meeting request to discuss a Phase III protocol could be timed in accordance with when top line Phase II study results are anticipated rather than upon final analysis or study report completion. Understanding the requirements of what to include in a meeting request vs. what to detail in the background package allows flexibility in submission timing.
Knowing the FDA's timeline for background document submission, agency written responses and meeting dates should also play a strategic role in meeting request timing. Table 2 summarizes key timing for each meeting type. It should be noted, that timing is the same for requests for agency written response only as with face-to-face and teleconference meetings. (Please click on Table 2 for more details.)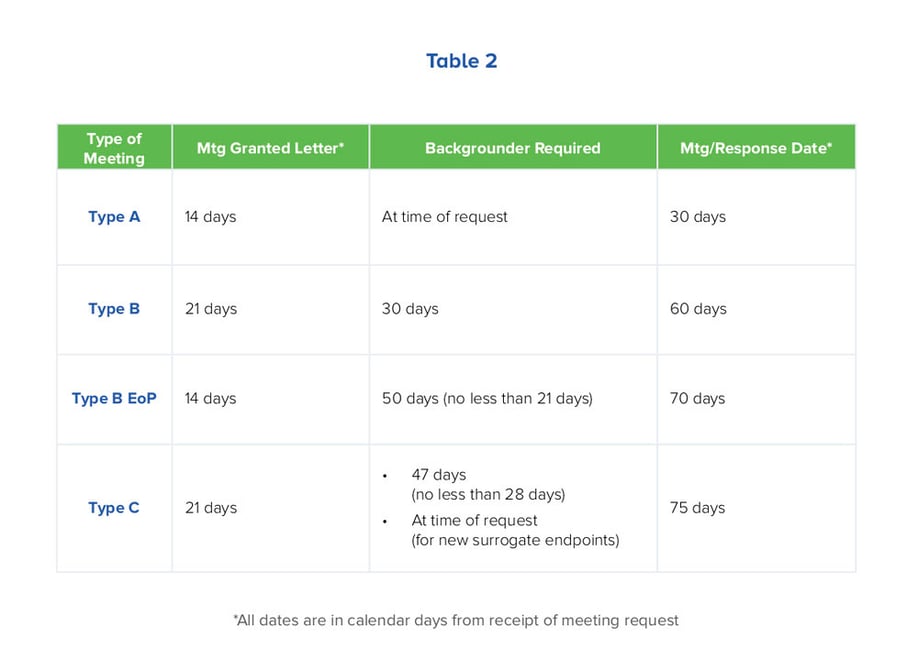 Meeting Preparation
Many sponsors will begin preparing for a meeting several weeks in advance, holding team meetings to review materials, predict potential FDA queries, and assign sponsor roles (e.g., facilitator, scribe, contributor). Sponsors are required to provide a list of attendees in advance of the meeting as well as a Foreign Visitor Data Request Form for all non-US citizen sponsor attendees.
The FDA will typically provide preliminary responses to the sponsor's submitted questions two to five days before the meeting. Sponsors are to review the preliminary responses and communicate to the FDA regulatory project manager if a meeting remains necessary, and if so, it is beneficial to narrow the scope of the meeting by indicating which questions need additional discussion. In turn, the preliminary responses help focus just-in-time sponsor prep meetings on key discussion points.
Managing the Logistics
General recommendations for how to achieve successful meetings are available from the FDA. In essence, sponsors should appropriately arrange travel and lodging to accommodate an early arrival to the FDA for face-to-face meetings, allowing for sufficient time to clear security. There is only one chance to make a good first impression and the FDA is quite punctual in their time allotment for meetings, whether face to face or teleconferences. For teleconferences, sponsors should open the phone line early to ensure clear lines.
Sponsors will be navigated to the meeting room by an FDA Sponsor Meeting Support Team member, a recently added "concierge" type service implemented by the FDA to increase logistic sufficiency. The meeting itself will be chaired by an FDA staff member. The FDA will record the meeting minutes, including outcomes, agreements/disagreements, and action items. Official minutes are provided to the sponsor within 30 calendar days. While not required, sponsors should create detailed minutes to solidify internal understanding and verify against the official minutes.