Every second of the day, over 104,000 people are searching for a topic on Google. As the king of search engines, Google has become an indispensable part of our daily lives and an essential tool to drive marketing and sales. But its mysterious algorithm can perplex and frustrate even savvy users. Let's take a look at what the algorithm is, and how Google is leveraging the algorithm's power in recent updates that life science marketers need to know.
What is the Google Algorithm?
An algorithm is simply "the set of rules a machine (and especially a computer) follows to achieve a particular goal." Google uses a number of algorithms to answer queries and connect users to information, and frequently updates them to ensure users are receiving "relevant and authoritative content." As Google evolves, gains users, and gains users' data, it updates the algorithms to become as precise and accurate as they can be.
As life science marketers, we need to stay ahead of algorithm-related Google updates so we can optimize our advertising strategy and analytics approach to deliver strong ROI. Here are two major changes to keep on your radar:
1. Responsive Ads Now the Norm
In the past, Google allowed marketers to create two types of ads in standard search campaigns: expanded text ads, or responsive ads. As of June 30, 2022, Google has stopped offering expanded text ads, and responsive ads are now the only search ad type that can be created or edited in standard search campaigns.
Expanded text ads allowed advertisers to create three headlines (up to 30 characters each), two descriptions (up to 90 characters each), and a display URL. Responsive ads allow for up to 15 headlines and 4 descriptions, making them more flexible than extended text ads were.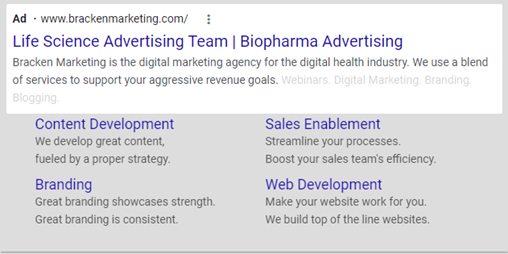 More text options mean more opportunities for Google to display your content in response to wider search queries. As the ads run, Google's machine learning function tests different text combinations to learn which perform best. This gives advertisers greater insights to craft effective, results-driven ad campaigns. Most importantly, responsive ads perform better than extended text ads: advertisers that switch from expanded text ads to responsive search ads, using the same assets, see an average of 7% more conversions at a similar cost per conversion.
If you still have extended text ads running through your Google Ads account, you can no longer edit them or create new ones, but your existing ads will keep running for now. Any new ads must be created using responsive ads.
2. The Algorithm and Analytics: Meet GA4
Many of us are probably using Google Analytics to track our business's website traffic and analyze user trends. This powerful tool can display user journeys, helping marketers to understand where traffic is coming from and how users are interacting with their sites.
But big changes are on the way for Google Analytics. On July 1, 2023, Google will replace its long-standing Universal Analytics platforms with its new Google Analytics 4 (GA4). This change will impact most Google Analytics users who created their property prior to Oct. 14, 2020 (users who created their property after that day are likely already using GA4). GA4 will offer users a new interface, easier-to-interpret predictability models, privacy controls, and new media integrations to drive traffic to websites and apps.
Users using Universal Analytics will need to make the switch to GA4. After July 1, 2023, you'll be able to access your data in Universal Analytics for a few months, but new data will not be added to your metrics without GA4.
Goggle-Eyed Over Google?
Google advertising and analytics are unique tools in the life science marketer's toolkit – but they're essential. Simply put, your audience – whoever that may be – is on Google, and you need to use this robust platform to reach them. Leveraging Google's advertising and analytics power to gain stronger customer insights, clarify audience segments, and connect marketing to ROI are vital parts of any comprehensive marketing strategy.
Not sure if your analytics are up to GA4? Still running extended text ads but eager to make responsive ads work for you? Unclear about what to measure and how? We're here to help. Contact The Bracken Group for a free consultation to discuss your digital marketing strategy.